With the weather getting warmer, most of us start going swimming or even go outside and start sweating. To me, there's nothing more annoying than having my makeup running down my face and looking like a drowned raccoon. Over the years I've tried out many different waterproof products, and some worked very well while others didn't. If I know I'm going to be outside when it's hot, I usually don't wear foundation or anything, just some mascara and a good waterproof eyeliner, but for the sake of this post, I did a full face of makeup. Also, the most important thing is to wear sunscreen, so I've found a few that work very well in the water. I've made a list of the waterproof products that worked the best for me, so I hope they work just as well for you. Happy spring everyone!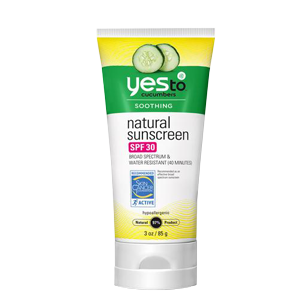 This sunscreen has a very pleasant smell, and it does its job very well. I burn very easy no matter how much sunscreen I apply, but with this one I didn't burn at all. Will definitely buy this again.
Yes to Cucumbers Natural Sunscreen SPF 30: $9.75 at grove.co
I really like this lipstain, it didn't make my lips dry and peely and it lasted all day, even in the pool.
Palladio Lip Stain $5.99 at Ulta.com
For a cheap bb cream, this was good. I wouldn't wear this on a day I wasn't outside because it isn't full coverage, but it covered fairly nice and it lasted in the water.
Maybelline Dream Fresh BB 8-in-1 Beauty Balm SPF 30<!–
4.1
460.0
–> $8.99 at Walgreens
This concealer has good coverage and it lasted all day. I would use this even if I wasn't going to be in the water, I was very impressed with this.
NYX Incredible WaterProof Concealer $5.99 at Sleekhair.com
I really like this powder, it kept my makeup in place all day long, and it didn't wash off in the water.
NYX Mineral "Set it & Don't Fret it" Matte Finishing Powder $9.99 at Ulta.com
I absolutely love these eyeshadows. They last so long they're actually kind of hard to wash off at the end of the day, but that's a good thing. They have many beautiful colors to choose from, all of which are highly pigmented and are very easy to apply.
Maybelline EyeStudio Color Tattoo Eyeshadow $6.99 at Ulta.co
This is one of my favorite eyeliners, so I'm very glad it did so well in the water. I did a winged look and when I got out of the pool, it hadn't even smudged. Would highly recommend, even if you're not going to be in the water.
Stila Stay All Day Waterproof Liquid Eyeliner $16 at skindirect.com
I was nervous about this mascara at first, because I've tried so many "waterproof" mascaras that didn't work. I was very shocked when I got out of the pool that I didn't look like a raccoon. It really did stay in place all day.
Covergirl LashBlast Fusion Water Resistant Mascara $7.99 at jet.com